Assalamualaikum.

(Korang, waktu I buat entry ni Amran Fans ni baru popular. I taktau pon Amran Fans ni page troll. I pon tak perasan. Biasalah pempuan ni kekadang lampi sikit. So takyah la nak bahasa-bahasakan I cakap I ni bodoh and tak paham bahasa ke apa. Baca je la untuk hiburan. Jangan tau nak mengata je. Sebut dan fikir yang elok-elok je la. Tak baik komen nak menyakitkan hati orang)
I nak share ada satu mamat ni nama Amran. Dia kata dia orang kuat Pekida. Siap ada fan page dekat FB. I layan jugak status-status dia. Memang kelakar nak mampos and confidence level tahap mentibang laut. Nanges I baca. Hahahahaha. Ada sesapa yang follow kisah Amran Pekida ni tak? Bongok giler. Kerja nak Oil & Gas company je. Padahal jaga pam minyak je. Hahahahaha.
I suka layan orang-orang lurus selenga macam ni. Hati bersih ni. Memang tadek dengki-dengki. Kalau jumpa memang aku tunjal. Geraaaaam!!
Ko tengok confidence level budak Amran ni?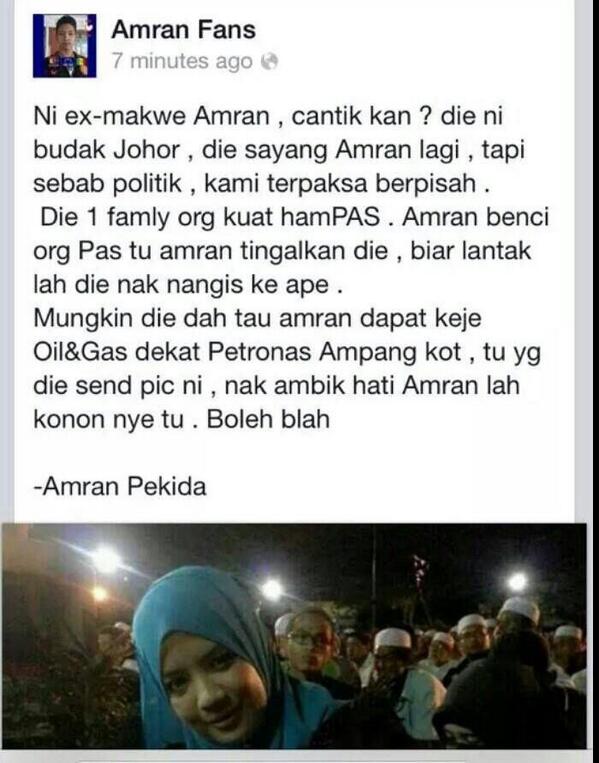 Alololo comelnya ex gf Amran
Cececece
Hahahahhahahah banganggggg!! Padang Matsirat pon boleh. Hahahha
Hahahhaha Ugut nak isap rokok ni macam budak sekolah menengah je. Yang bulu baru nak tumbuh. Haha
Ko memang win la Amran! Hahahaha
-eNd-